Asking for referrals can be intimidating, but the importance of asking for referrals is absolutely monumental. Learning how to ask is a simple but effective way to increase your revenue and simultaneously grow your brand. While referrals are a widely valued commodity, few business owners have truly harnessed the art of asking their business contacts, customers, and/or clients to endorse their business, and the reason why usually comes down to fear and lack of good habits.
According to Nielsen, as much as ninety-two percent of the time people trust recommendations from people they know – such as friends and family – over other forms of marketing. Therefore, when you are introduced to a prospect through someone they value and respect, that prospect is arguably more likely to buy into your business than someone you find (or who finds you) organically.
The trust your potential prospects have in your mutual contact is an instant benefit to your business – and a true business professional capitalizes on it!
Here's how:
Do Good Work
First and foremost you have to understand your contacts won't refer you if they don't strongly believe in you. So, take care of their needs – and then some. There is nothing to be lost, and rather a whole lot to be gained, from going above and beyond to impress them. Maybe you aren't the number one person in your primary industry, but that doesn't mean your work shouldn't reflect your best.
Change your perspective
One of the greatest things you can do to increase the amount of word-of-mouth referrals you receive is simply to change the way you perceive them! Each of your customers or clients has the ability and potential to connect you with hundreds – even thousands – of new contacts.Let that soak in for a minute…
Those contacts may feel hypothetical but the reality is that they are more tangible than you think – pursue them! The best place to start is by asking your current contacts to advocate on your behalf.
Don't feel embarrassed about asking for a referral. Your contacts will refer you if you provide them good work (which we already know you are doing). People aren't going to refer you unless you deserve it. In essence, a referral from a valued contact is the biggest business-compliment you can get according to author and president of PRO: President's Resource Organization, Ray Silverstein. Therefore, communicate to your advocates how greatly you value referrals, and then ask for them!
The Nitty Gritty of Asking for Referrals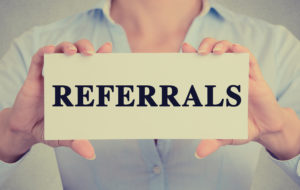 1.  Have a script ready
The Boy Scouts were really onto something with their motto, 'Be Prepared'. You'll naturally be more comfortable asking for referrals if you know what you're going to say. Have a phone and email script ready to go when the correct opportunities to ask for referrals present themselves. That way, you're not stuck fumbling over what to say.
Check out our sample business script (which you can customize into a phone script):
Good Afternoon/Morning/Evening, (client name),This is (introduce yourself) from (introduce your practice). As you know, I am currently in the process of growing my contacts and, in the process of doing so, am reaching out to contacts whom I personally trust and value to assist me in generating more business. Much like how I've helped you with (insert your client's needs here), it is my goal to help as many (insert your type of target client here) as I can to (insert your mission or what you hope to achieve). Are there one or two people you know that could use my help? If so, can you please send me their contact information?

It has been my pleasure to help you with (insert what you have provided your client/customer), and it is my personal goal to help others with similar needs to (insert what you hope to achieve). Do you have one or two individuals in mind that you know could use my services? If so, would you please forward their information to me? I know how valuable time is, so I would like to thank you in advance for your referrals and for taking the time to assist me in my endeavors. As your (insert your title here) I genuinely appreciate it and will ensure to take excellent care of your friends.Warm Regards/Sincerely/Best Wishes (pick something genuine),Your Name.
You'd do well to practice your script(s) with friends and colleagues to get comfortable (you don't want to sound like a robot) and for valuable feedback. Your friends will jump at the opportunity to make sure you don't sound like the proverbial "used car salesman." Remember, 'Practice Makes Permanent' so the more you practice, the better equipped you'll be when it's crunch time.
2.  Determine Your When
A large part of asking for referrals depends on timing. As a good rule of thumb, any time one of your contacts compliments your business – ask for a referral. While saying, "Thank you!" is polite, it's even better to optimize an advocate's belief in your product or service. For instance, let's say you have a contact who just called you to compliment your services or product. Before hanging up the phone, reply with something along the lines of, "Thank you so much for your feedback! I am really happy to know that you are pleased with (insert what service/product you have provided). I know how difficult it can be to find a good (insert service/product)."
At this point in the conversation most people will either share their own story, or that of someone they know, where things didn't turn out the way they had hoped or expected. Pay attention to their response and do your best to empathize with them. After they've finished, follow up with something such as, "If you know someone who is in need of (insert service/product) feel free to send them my way – or, better yet, if you have someone in mind I would be more than happy to contact them myself and spare you the extra work."
By now you aren't so much asking for a referral as you are helping your contact. While talking to your contact you may as well capitalize on the moment by asking for a testimonial. Ask something along the lines of, "Well, (insert contact name), I would love to learn more about what made this (insert product/service) pleasant for you … Would you mind if I asked you a few questions?" In general, people are willing to answer questions or do a favor, especially if they feel they are genuinely helping.
Once this is completed, ask your contact if they mind if you use their comments as a testimonial. If they approve, you'll have great feedback to share with others who are interested in your business!
Other Key times to ask for a referral:
At networking events (Make it a habit to get at least three contacts)
When following up with a contact after providing a good/service (essentially, you want to follow up with your contact to ensure they are satisfied with the good/service that has been provided to them via your business
When your services aren't a good fit. If you're a consultant and you've done your potential client the favor of saving them money by NOT working with them, it's the perfect opportunity to ask them if they know of anyone for whom your services would be a great fit.
As part of your customer service and/or sales cycles. Try to think of all of your customer touchpoints as an opportunity to ask for a referral. For example, you could include a link in your email signature to a form that will capture referral information. Also include this link in your invoices, social media posts, etc. Anywhere your customer interacts with your business is a potential for this "soft ask" type of referral generation. Get creative!
3.  Incentivize
Incentives are an excellent way to encourage your contacts to endorse your business – and, let's be honest, everyone loves gifts! So, think of a creative way to reward your contacts for referring you such as flowers, a card, a charitable donation, or even money. Better yet, ask your advocates what they'd like or what would motivate them to refer. Asking is a great option because it allows you to ask for a referral while simultaneously getting advice on what type of reward your contacts may enjoy.
4. Say Thank You
After an advocate has sent you a prospect, say thank you! Sending an email, calling, sending a personalized card touching on the things you genuinely appreciate about them are all excellent ways to truly express your gratitude. People notice when you go the extra mile – even if it's just from a simple gesture such as expressing sincere thanks.
Final Thoughts
A large part of business is being equipped with the proper knowledge. But equally as important as knowledge are the systems that you create and integrate into your business. Creating a system of asking for referrals can greatly increase the number of referrals you receive and the number of contacts who will endorse you.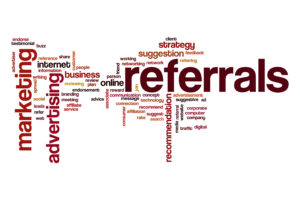 The exciting part, however, is that making the change to create a referral system is easier than you think, and, once it's in place, will change not only your business but the way your clients/customers/advocates interact with and value you. A business owner with strong systems will be viewed as a true business professional.
Interested in learning more about how to generate referrals on autopilot? Join the Referral Revolution and see what Referrl can do to help you build YOUR business!