Referrl.com – The Only System You Need To Increase High-Quality Word-of-Mouth Referrals Into Your Business Now
In a recent survey, business owners were asked where they got their business from…
Here are their top 4 answers.
With 88% of business owners saying they get most of their business from word of mouth only 9% had a system in place to generate and manage referrals.
Common Myths About Referrals.
Referral myth #1
Your customers know when and who to refer.
The truth is, unless you train them, they won't know how to recognize your best leads when they encounter them OR how to get them excited about using your services. It's up to YOU, the business owner, to train them to recognize these opportunities and determine who is a good fit for your service and who isn't. It's no different than training sales staff to prospect and get you leads. Without the proper understanding and language, they won't know how to do it. Remember, your best clients came to you to solve a problem. The problems your business solves can be coached in many different types of language. Give your advocates this language, and they'll know how to recognize and seize the opportunity to get someone else excited about working with you.
Referral Myth #2
Technology doesn't work for person-to-person, word of mouth referral generation.
Actually, technology is the BEST tool you can leverage to streamline and make this process easy for you and your Advocates. The proper technology can help you create a MORE personalized experience for your customers and Advcocates, not the other way around. When was the last time a new client called you because someone gave them your business card? More than likely, it was a mention, followed by looking you up online to research your services and offerings. This is the new form of business, and your business needs tools and strategies that recognize and capitalize on this.
Referral Myth #3
Doing good work will increase my referrals.
Did you know that customers are 20 times more likely to WARN potential customers if they had a bad experience than to encourage customers to have a good experience with your business? We've all done it. We've had great experiences with businesses that we were excited about and that excitement faded. But just let there be a hair in your soup and you'll tell EVERYONE to avoid that restaurant!
How the Referrl App Can Help Your Business
Here's what you can expect when you purchase Referrl.com software:
Video Tutorials
First, you'll receive a series of bite-sized training videos to help you properly download and install the app onto your smartphone (don't worry, you can do this from you laptop as well if you'd prefer); you won't be overwhelmed with the short videos that will walk you through this process step-by-step with clear, visual instructions as well as easy to understand documentation (no obscure IKEA instructions here!). We've designed these videos so that you can be up and running in about 20 minutes. If you'd prefer, you can spread it out over the course of a couple days, or simply power through them and be ready to go right after you purchase
eMail Support
Next, you'll get a series of emails that will walk you through our ARC Method™ Rerferral Generation process and why it works to increase referrals. You'll finish this 5-day mini-course with a clear understanding of how to improve your sales processes, as well as how to roll out your new technology to your staff and Advocates. You'll get comfortable navigating your Referrl App dashboard and learn how to enroll new Advocates, track your potential revenue and design a rewards program that perfectly suits your business.
One-on-one initial Coaching
Once it's time to ask your Advocates to download your "App", you'll receive a one-on-one implementation call to make sure you feel confident and answer any questions you might have
First 5 Advocates Entered
Our team will work with you until you have 5 referring Advocates in your system; once you do, you'll be a pro at getting your Advocates to refer and you will have set up systems to generate referrals on autopilot throughout your entire customer journey. You'll plug leaky sales funnels with easy to implement but often overlooked customer touchpoints to keep your business top of mind when your advocates have an opportunity to refer
Become a Referral Magnet
Getting high-quality word-of-mouth referrals will become second nature instead of the awkward chore it feels like now
The ARC Method Works!
What is the ARC Method?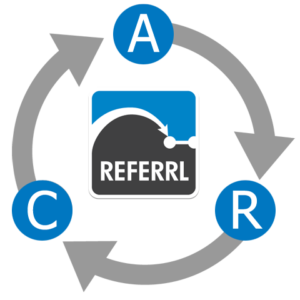 The ARC Method is a system of nurturing your Advocates to send Referrals and those referrals turning into Clients and those clients becoming Advocates and repeating the cycle.

ARC = Advocates -> Referrals -> Clients


Plus, Our 5-Step Referral closing process will help you manage your referrals from the moment you receive it until you close it into business.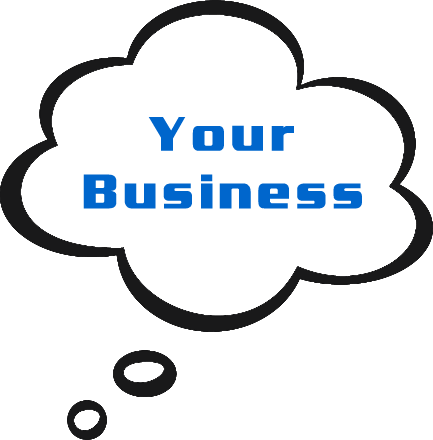 Your Business Will Stay Top-of-Mind
We are not affiliate software, we are not lead gen software. We replace business cards and reside on your Advocates' smartphones. Your Advocates will have YOUR BUSINESS LOGO on their smartphones so that whenever they meet a prospect that could benefit from your services, your business information is only a few touches away
Our app captures prospect information in real-time when the lead is hottest. This puts you, the business owner, in a position of power. Traditionally, you had to wait for the prospect to decide whether or not he/she needed our services.
But, our advocates have already used our services. They know BETTER than the prospect if and when they will receive benefit from our services. Statistically speaking, our advocates, when properly trained by us, will only refer the highest quality leads to our business. Having used our services, they know better than those they are referring when/where/how they can benefit most from working with us. Absolutely NOTHING can replace an Advocate's excitement about our services in the prospect's mind.
Become a Founder, and Get the Referrl App at 80% OFF
Our 100% RISK FREE guarantee is incredibly simple: If you don't make back the purchase price from new referrals into your business within 60 days of implementing our system, you'll get your money back. Plus, you'll get to keep all of our training materials forever. Period. To be eligible for this guarantee you must be willing to implement our method. We'll help you with the tech, but you've got to bring the fire.
Now you might be wondering, "Is the Referrl App right for my business?"
If you can say "YES" to any of these questions, I believe you're a PERFECT fit for the Referrl App software:
Are you a service-based professional who relies on word-of-mouth referrals for the bread and butter of your business?
Do you sell infrequent, big-ticket purchases like real estate and need to stay top-of-mind so that your Advocates jump at the opportunity to send new business your way?
Are you in a "must have" industry like finance or insurance where your customers know they need you but it's like pulling teeth to get them to address those needs? If you're able to make the experience of working with you pleasurable and comforting, our app will work wonders for your business.
Do you sell tangible products in a unique and creative way that gets your customers excited about the buying process in addition to the product?
Have you already tried or are you currently a member of business networking groups that just don't deliver what they promise? (Stop spending your hard-earned money buying services you don't need from your peers just to get in their good graces… the Referrl App is all you need)
Take Action Now!
Join the Referral Revolution now and start increasing high –quality word of mouth referrals to your business on autopilot.
Don't wait another minute or waste another dollar on marketing strategies that don't pay off.
Leverage the power of your happy customers to increase your bottom line in two weeks or less.
We're NEVER going to offer our software at this price again, so if you even think you could benefit from our system,
you should buy now. We offer a 100% RISK FREE guarantee.
Basic
$199 Sign up

Up to 50 Advocates

5 Step Referral Management

ARC System
Founders Rate
$99 Sign up

Up to 200 Advocates

5 Step Referral Management

ARC System
Pro
$199 Sign up

Unlimited Advocates

5 Step Referral Management

ARC System