5 things top producers do to generate endless referrals.

I started a networking company in 2010 and have been helping small and medium-sized businesses with sales and marketing since 2001. When asked "where do you get your business from?" 99% of businesses will say "word of mouth". That means referrals are the most important form of advertising a business relies on to get new business. Yet, few business ever develop a good referral program. Why is that? I've heard lots of excuses over the years and the most used excuse is: "It's too much work". Which means they don't know where to begin. So, here are the 5 most common traits/actions that all the top producers do to generate endless referrals for their business.
#1 Provide Excellent Value
Price should never be a factor as long as the perceived value is much greater than the cost. This is the foundation of your referral business. Customers that feel they received more than what they paid for are more likely to refer you to their friends. How do you find out what your value is? Ask. Poll your customers using SurveyMonkey or other software systems.
#2 Ask for Referrals
This one seems to be the hardest to do and ironically the most effective way to get referrals is just to ask for them. Your happy clients want to help you help others. Your friends and family want to help you build your business. Your network wants a reciprocal referral exchange or at the very least someone they can count on to get things done. Be that person, ask for the referrals, and kick butt!
#3 Make it Extremely Easy to Refer You
Having an easy way for your advocates to send you referrals is absolutely key to getting referrals. The easier it is to refer you the more likely they will. The biggest roadblock to building a strong referral business is not knowing how to send you referrals. Consistency is key! If you prefer email make sure you tell them to put "New Referral" in the subject line so you can immediately identify referrals from other emails. If you prefer text: the first line should be "New Referral" again, identifying referrals will allow you to follow up faster. Whichever method you prefer, you should have central repository for the referrals with the date of the referral, the name of the person who referred you and their preferred "reward" (see #5),
#4 Create a Solid Process for Follow-up
It's true that the fortune is in the follow up but follow up is also where the trust is built. If someone sends you a referral and you call them the same day and recognize the person that sent you the referral, our research has concluded that you are much more likely to receive more referrals sooner. Following up means you care about the person that sent you the referral and are committed to building a strong relationship. On the flip side, not following up with either the referral and/or the referee will cost you dearly in the long run. A good referral business is built like a pyramid with a strong base that just keeps getting bigger over time. Egypt wasn't built in a day, don't expect your referral business to be built in a day either.
#5 Thank Them for Referring
The most important step in the referral process is the recognition of the person referring you. So, how should you say thank you? Handwritten note? phone call? recognition in front of a room? gift? monetary reward? The right answer different for each of your advocates, The simplest way to find out is to ask.
Rewards vs saying "Thank You": The 80/20 rule applies here, 80% of people feel appreciated with a simple phone call and a "thank you". 20% are motivated by a reward. There are many different ways to say thank you but, whatever you choose to do, make it personal and make that person feel special. Sincere appreciation is the best reward.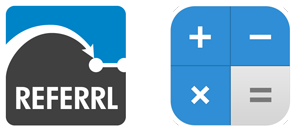 Referral Calculator
Want to see what you could be earning with a good referral program?
Enter some simple information below and let the calculator do the rest!